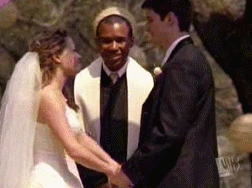 Doors open...a hush comes over the crowd.  Here...comes...the bride.  It's the dramatic and anticipated moment everyone waits for.  Couples count down those first moments with fervorous emotions and adrenaline running through them as the space between them closes in.  Hoping to remember just what to do next, couples sometimes forget to relax and take it all in. 
Finding yourself in a concentrated stare forward wouldn't be too uncommon (lol).  You've been given away or accepted your bride and are now waiting for your officiant to take over, waiting for the next set of instructions to be given.  In this brief pause in time, it's such a great moment to look over to your partner and say words of adoration to start off your commitment to one another.  It's that space in time that truly belongs to you before you are guided through what to say or prompted to recite your vows.  "You look amazing,""you look handsome," or the more comical "glad you made it," are some memorably romantic and cheeky ways to stay connected to your partner and just be you.  But even moreso it's another personable way to say "I love you." 
Many times couples don't get these  3 words in at all: I love you.  Ceremony scripts (whether religious, or non-denominational ) have beautiful verbiage that couples should connect with and try to personalize if allowed.  But they may not prompt you to say I love you.  If you happen to be writing your vows, that would be an additionally great place to say those universally profound words.  If not, try to find a space in time to say them.  Whether it's after exchanging your rings, completing your unification ritual, or just before or after your grand finale KISS!  Be sure to say "I love you" at the alter.  There's just something about remembering those amazing words from the moment you started your lives together. 
Please reload